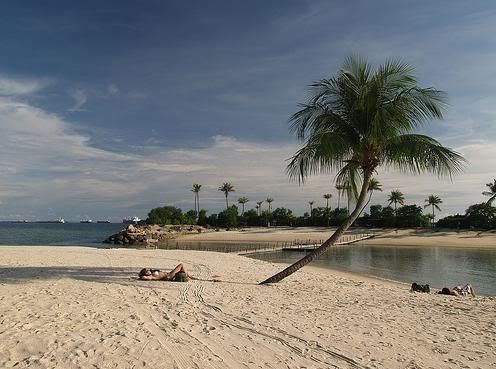 Thank you to all of you guys who turned up and brought us those delicious goodies and munchies and what not! It was certainly difficult to wake up so early running to Tiong Bahru to get their famous char-siew paos and then rush to VivoCity so early in the day. I wanna thank you all for that! Oh also, thank the gods it didn't pour today! :)



Sorry to inform all that Siloso Beach is 1/2 closed due to their preparations for New Year's Party. Therefore, we will move to Palawan Beach instead! I have sent all of those who are going an email, please check! We will still be meeting at the same time & place, just the destination is changed.
I think the last time we tried to organize a Sentosa outing, it got canceled due to the Pink Picnic, Indignation 2007... Anyways, this time round we're going there for a fabulicious picnic under the sun, amidst the sandy shores, the gentle winds and not forgetting the *gulp* "sights"...
We will be spending the mid-morning till the evening when the sun sets, please feel free to bring along your personal stereos, swimming trunks & costumes, suntan lotions, frisbees... Does anyone have a volleyball???
Oh oh oh and most importantly, we need to hammer out who is going to bring what kind of food for the pot-luck picnic too. Typical examples would be sandwiches, fish fingers, chicken wings, pastries, pies, Kebabs etc. (U get my drift... something light yet sustainable :)
So for those who are confirmed going, I will put their names down and what food they would like to bring. I will need volunteers to help bring drinks, especially those who drives a car. Here are a list of things that I need volunteering:
Driver/s - Transport for drinks, icebox etc. (1 will do)

-> 2xist_Thong

Picnic mats (Depending on how many will be going, I suppose... 5 mats?)

Currently only have 2



Paper plates/cups/serviettes -> Asimov_22

The post will close on 18th Dec, so please sign up early. Looking forward to seeing you guys again!
regards,
Asimov_22 & VitalAuto
Attendees:
Vitalauto & Universek - ???

Asimov_22 + Rookcub

- Otah & Nasi Lemak



Getafix21 - ???

2xist_Thong –

Curry Puffs

Xiaoyao –

Guo Tie

Davdaf + 2 friends

- Waffles

Hanzi + friend

- Creampuffs

Kit_sg

- Chicken wings or drums

Saon6 - ???

Divineseeker

- Homemade Pie

Otto, Han & Mantou - ???

TVfan82

- Carrot cake



Brick - Assorted Dim Sum
Lightage –

Mash Potato

Guyalvino

- Fish Balls

FireGunz

- Fried Rice